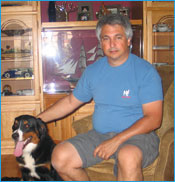 Zach Simon started Sparkle Mobile Dog Grooming because there is a shortage of qualified groomers. After spending much of his time behind a desk pushing papers, he decided to do something that not only helps our furry friends, but also provides a wonderful service to their owners.
Zach is a graduate of the O.C. Academy of Pet Styling. There he learned all aspects of dog grooming, from bathing and brushing to clipping and fine finishing. He is also a member of the American Mobile Groomers Association.
Zach's family consists of his wife, Renee, his daughter, Rachel, and our two dogs, Sparkle, the Golden Retriever, and Blossom, a Bernese Mountain Dog.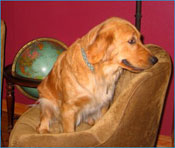 Over the years, they have had a variety of pets, and this love of pets has led Zach to want to give back to them what they give to us. And that is how he'll treat your furry friend, as one of the family.
HOME  |  SERVICES  |  ABOUT SPARKLE  |  FAQ  |  LINKS

PHOTO GALLERY  |  NuVet  |  CONTACT  |  POLICY